I talk specially on parenting a child with Autism, how to potty train and teach communication skills, and the exact steps you can take to help your baby now.

There was a lot of laughter and real talk so I hope you enjoy!

Reply back here and let me know your thoughts!

Michelle
P.S. Don't forget to follow me on Instagram for your daily dose of Autism Momming like a Boss knowledge. CLICK HERE!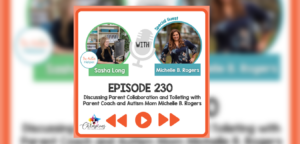 This week I'm excited to share with the recording for a podcast I was a guest speaker on.  I talk specially on parenting a child
Alex is 5 years old and has Autism. Hayden came to me with hopes to get Alex (finally) potty trained.  Find out what *clicked* to
Michelle B. Rogers is an Autism Mom & Life Coach for Parents of Children with Autism. She is an expert in helping parents Potty Train and Improve the Communication Skills of their children, with a "straight forward" results-driven approach. Her mission is helping every child with Autism to reach their greatest potential by empowering their parents. She provides Autism Parents with the mental, emotional and tactical tools and strategies to help their child live as independent of a life as possible so they too get their independence back.