When we are working towards the goals of Potty Training or Communicating and we don't have it yet, we often ask ourselves why it's not happening.
We think it isn't working. Because it hasn't worked YET.
We start troubleshooting.
Why we start wondering what the problem is.
What if we start feeling down about it not working.
If we start blaming AUTISM as a reason it can't be done.
We start feeling like it's all pointless. Why bother?
I start to give up. A little here and a little there. We lose motivation.
But we do something else instead.
It keeps not working. It does not work… even more.
Then we feel desperate.
But all that has happened is that we underestimated the time and effort it would take.
So Didn't keep working when it was working.
I think we started "not working".
And we didn't stay working – no matter what.
Didn't learn the actual amount of effort it takes.
Now we will never know. 🙁
Unless we pick working back up. And decide it works. Until it does.
That is when we will know. Exactly how much effort it took, to make it work.
xoxo
Michelle
P.S., Struggling with keeping at it when it's hard or taking longer than you thought? This is what the Masterclass is about! Book your free complimentary consultation call now where I want to hear all about your baby and we'll see if it makes sense to work together.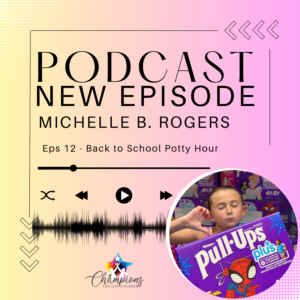 From This Episode: Stacey is what I like to call an OG to the Champions for Our Children Masterclass.  She's been with me since the launch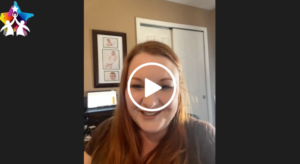 Anne joined my program in early March. Convinced her daughter Audrey would be in pull-ups forever. By April 4th, Audrey was FULLY POTTY TRAINED and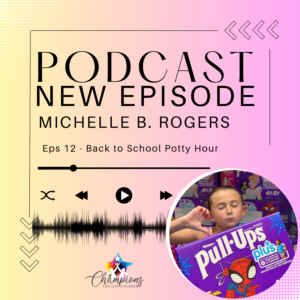 From This Episode: 🎒🎙️✨ Exciting News! Join us for a captivating new episode of "Back to School Potty Hour" on the Autism Moms Podcast! 🧩
Michelle B. Rogers is an Autism Mom & Life Coach for Parents of Children with Autism. She is an expert in helping parents Potty Train and Improve the Communication Skills of their children, with a "straight forward" results-driven approach. Her mission is helping every child with Autism to reach their greatest potential by empowering their parents. She provides Autism Parents with the mental, emotional and tactical tools and strategies to help their child live as independent of a life as possible so they too get their independence back.