It's not about the Money

 

 

I've recently spoken to several families who wanted to learn more about working with me.

 

As soon as we discussed the price their knee-jerk thought was "I can't afford that" or "That's too expensive".

 

And as someone who has come out of poverty myself, I can understand that for some people making the decision to invest in something new could send their brain into fight or flight.

 

 
 

However, because I also GOT OUT of poverty, I remember when I was there and had that same THOUGHT ERROR that "I could do nothing to change my lack of money/circumstances around money."


 

 

I coach parents of children with Autism to solve important life skills like Potty Training, Communication, Picky Eating, Stopping Problem Behaviors, and more.

 

 

To do this, my parents HAVE TO believe that they can create results they've never created before.

 

 

They have to believe they can step into the identity of a person who can make ANYTHING happen.

 

When I did this work with my own daughter, I had never done it before.

 

I knew shit about Autism, she was my only child, and I was never formally trained in behavior therapy.

 

BUT…

 

Because I was able to solve many hardships in my life, including poverty/money, I knew I'd be capable of solving for her Autism, even though I didn't know "the how".

 

I'm not saying having $5 in your bank account isn't a real thing.

 

I am not saying that paying off debt shouldn't be important. I am not saying that saving for the house is a priority you shouldn't have.

 

What I am saying is one of the PRIMARY lessons we need to learn to become the ultimate Problem Solver for our children with Autism is solving for the biggest life circumstances that have kept our lives stuck in the first place.

 

You can have $5 in your bank account, throw your hands up and say "nothing I can do here"

 

OR You can start figuring out how to find the money to pay for the resources to help you help your baby.

 

(By the way, when you do this once, you will have this skill at your fingertips for the REST OF YOUR LIFE to wield whenever you see fit).

 

So you can decide that paying off the credit card debt is more important than teaching your child to potty train.

 

I did debt consolidation multiple times. I remember vaguely what it felt to get out of thousands of dollars in credit card debt

 

But I'll never forget the first time my girl peed and pooped on the potty.

 

What if it took a little longer to pay off the debt and you still made it a priority to help your baby potty train now?

 

OR

 

What if getting your child potty trained could actually get you out of debt faster!?!

 

One of my moms didn't have to pay for diapers and wipes anymore after joining my masterclass

 

AND her child could go to a full time school that required potty training, so she could work more to pay off the debt faster.

 

You could prioritize saving for the house vs. investing in a coach that will get your child communicating now.

 

Eventually move into that house with your family and temporarily feel the accomplishment of owning a home

 

And be reminded every day that you still have a child that hand leads you to the pantry in your new kitchen versus communicating what they want to you.

 

Money objections are always surface-level excuses.

 

No matter your money circumstance, not jumping into a program like mine is never about the money.

 

It's about not believing that YOU can problem solve for ANYTHING. 

 

If you can't identify as someone who can do this, you will never invest in anything that might help you to help your child.

 

So when looking at solutions to help you help your baby ask yourself this…

 

"Do you believe you can create any results in your life, no matter your life circumstances?"

 

or

 

"Do you believe you are the victim of your life circumstances?"

 

How you answer this will decide the future possibilities for your life and the life of your child.

 

xoxo

 

Michelle

 

P.S. FIRST TIME EVER I am hosting a FREE Open Coaching Call this Thursday at 6pm. Bring your questions and attend live so I can help you with all things Autism BUT you have to register. Click here to sign up.

 

P.P.S – Ready to Join the Masterclass? Click here to book a complimentary consultation call where I want to hear all about your baby and we'll make a decision if it makes sense for us to work together.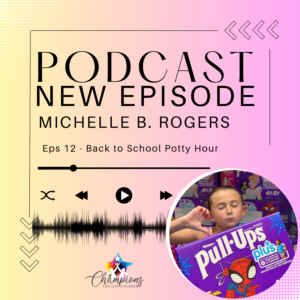 From This Episode: Stacey is what I like to call an OG to the Champions for Our Children Masterclass.  She's been with me since the launch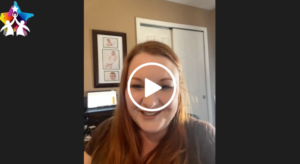 Anne joined my program in early March. Convinced her daughter Audrey would be in pull-ups forever. By April 4th, Audrey was FULLY POTTY TRAINED and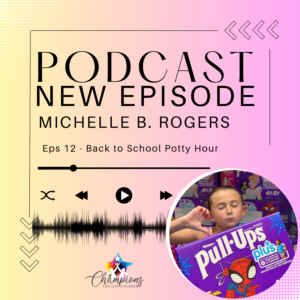 From This Episode: 🎒🎙️✨ Exciting News! Join us for a captivating new episode of "Back to School Potty Hour" on the Autism Moms Podcast! 🧩
Michelle B. Rogers is an Autism Mom & Life Coach for Parents of Children with Autism. She is an expert in helping parents Potty Train and Improve the Communication Skills of their children, with a "straight forward" results-driven approach. Her mission is helping every child with Autism to reach their greatest potential by empowering their parents. She provides Autism Parents with the mental, emotional and tactical tools and strategies to help their child live as independent of a life as possible so they too get their independence back.