Hello Warriors!
2 days ago I did a poll in my facebook group asking who is struggling with potty training and where are you at.
To my absolute surprise (or not), within an hour I had over 100+ responses.
All from parents and caregivers stating that they are struggling with potty training, they've tried and failed, and commented "Michelle!!! Potty SOS SEND Help Fast."
I went live in this group and I explained that….
MOST if not ALL children on the spectrum no matter the severity can potty train.
Not only do I have a 100% success rate in potty training the children of the clients I coach, I also surveyed the 3 BCBAs in our Group Coaching Program. All of which have had varied extensive experiences with children and adults all over the spectrum, including the "severe" and "pre-verbal".
They ALL agreed that MOST if not ALL children on the spectrum CAN Potty Train.
So if that is the case, why are so many parents and caregivers still struggling with this?
I could share with you all the solid gold tips I have to Potty Train your child, but if you don't have what I am about to share on lock it won't matter what practical steps I tell you, you will NEVER potty train without this….
It's the MANDATORY step of changing your thoughts about potty training.
I know you know what I am talking about, because I saw it in the posts:
"Potty Training is hard"
"She can't learn it because she has Autism"
"He can't learn it because he's non verbal."
"I can't teach them"
"I'd rather leave them in a diaper so I don't have to clean up the mess."
"She's never going to get this"
We have to start thinking about potty training in a way that supports success. For me, that thought went from.. potty training is hard.. to…
"There is no other option, she must Potty Train."
And let me tell you, as simplistic as this seems MOST Parents do not master this.
And it's not just for potty training, it's for all the things you want to see your kid do, but deep down your thoughts are telling you they can't or you can't help them to do it.
HEAR ME LOUD AND CLEAR
If you can't change your thoughts, your child will not get better, they will not potty train, they will not communicate, nothing will change. The famous words of Napoleon Hill state:
"Whatever the mind can conceive and believe, the mind can achieve."
The results of what you conceive could be wonderful or they could destroy any progress we want to see for our kids. The choice is yours.
Now try on some new thoughts and go out and get that baby Potty Trained!
xoxo Michelle
P.S. You could continue to believe Potty Training is some Grand Fucking Mystery or a Life Skill that isn't in the cards for your baby…
Or…
you could be like my new client who joined my program 3 WEEKS AGO and has OFFICIALLY POTTY TRAINED HER 10YR OLD SON, and say…
"Amazon Stock is gonna drop cuz we don't buy diapers anymore!!!!"
Book a Complimentary Consultation Call where I want to hear all about you, your baby,, and I'm going to tell you about the Masterclass and we'll see if it makes sense to work together!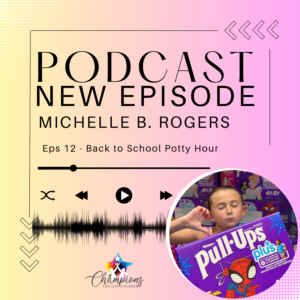 From This Episode: Stacey is what I like to call an OG to the Champions for Our Children Masterclass.   She's been with me since the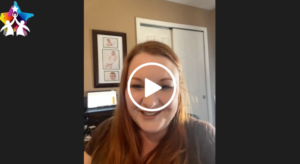 Anne joined my program in early March. Convinced her daughter Audrey would be in pull-ups forever. By April 4th, Audrey was FULLY POTTY TRAINED and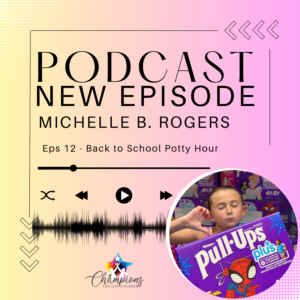 From This Episode: 🎒🎙️✨ Exciting News! Join us for a captivating new episode of "Back to School Potty Hour" on the Autism Moms Podcast! 🧩
Michelle B. Rogers is an Autism Mom & Life Coach for Parents of Children with Autism. She is an expert in helping parents Potty Train and Improve the Communication Skills of their children, with a "straight forward" results-driven approach. Her mission is helping every child with Autism to reach their greatest potential by empowering their parents. She provides Autism Parents with the mental, emotional and tactical tools and strategies to help their child live as independent of a life as possible so they too get their independence back.