When I meet with parents to share the details of my Masterclass, one of the biggest realizations that comes to the surface is…
The only reason their child is not further along than they should be has nothing to do with the Autism and more to do with their thoughts about Autism.
You think Autism is a death sentence.
And you think it's a debilitating disability and in turn you don't show up like you would have before the diagnosis came.
Then you take shitty action or lack of action.
Or you throw softballs to your kid by…
Letting your child cut the line for the carnival ride because they don't know how to wait their turn.

Yell at their siblings because they should be more understanding when their sister or brother with Autism steals their toys from them.

Let your child run off down the street with no consequences because they are "severe on the spectrum".

Let your child hand lead you to the pantry vs. requiring communication out of them.

Then let them stay in the diapers because they can't understand how to use a bathroom because they can't talk. 
You give them passes for bad behavior.

You keep them in diapers longer because you pity them.

You let them tantrum for the cookie because you believe Autism stops your child from communicating.
This is what happens when you believe Autism is less, vs different.
So naturally these moments of awareness are game changing.
I love being able to offer this gift, because…
Once you are aware, you can change how you show up. 
But… sometimes…
When you realize that you've been the gatekeeper all along to the lifeskills you desperately want for your child, you'll have one of the most painful thoughts that will put you right back to being stuck, which is….
"This is all my fault."
When we think this, we set ourselves up to feel like shit.
So when you feel like shit, you crumble, you don't take action, or shitty half ass action at best. You'll feel:
It just gives off a negative vibe all around.
I am not about the blame game. I need you out of mental mud so you can start taking action for your baby now.
You can think it's all my fault and feel like shit.. or really all that this sentence means is you've created the reality you are living now.
The good news is if this is your doing, you can create something else.

If you can take radical responsibility for the results, now you can take radical responsibility for creating NEW BETTER RESULTS.
So if you've been feeling like Autism is less vs accepting it's just "different" and if I can learn to teach "different", I can teach "different" anything, then this is your wake up call.
The moment you realize you can make the moves, you can teach your baby anything, is the moment things all begin to change.
Go from saying "It's all my fault" to "FUCKING A I am the reason my baby is thriving."
xoxo
Michelle
P.S. If you're struggling with your thoughts about Autism and desperately want to get your baby potty trained, communicating, and stopping their problem behaviors, this is my JAM!
Book a call here so I can hear all about your baby, tell you about the Masterclass, and we can see if it makes sense to work together.
P.S.S. I LAUNCHED A PODCAST!!!! Introducing the Autism Mommy's Potty Talk Podcast!! You can check it out HERE
In the coming days I will be celebrating this new outlet by doing a special giveaway. Details to come so make sure to add this email to the safe sender list to get the 4-1-1!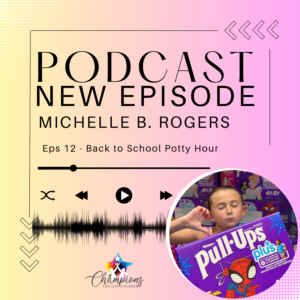 From This Episode: Stacey is what I like to call an OG to the Champions for Our Children Masterclass.   She's been with me since the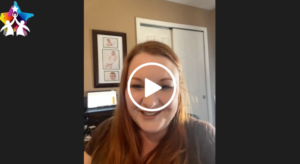 Anne joined my program in early March. Convinced her daughter Audrey would be in pull-ups forever. By April 4th, Audrey was FULLY POTTY TRAINED and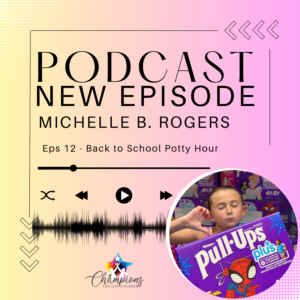 From This Episode: 🎒🎙️✨ Exciting News! Join us for a captivating new episode of "Back to School Potty Hour" on the Autism Moms Podcast! 🧩
Michelle B. Rogers is an Autism Mom & Life Coach for Parents of Children with Autism. She is an expert in helping parents Potty Train and Improve the Communication Skills of their children, with a "straight forward" results-driven approach. Her mission is helping every child with Autism to reach their greatest potential by empowering their parents. She provides Autism Parents with the mental, emotional and tactical tools and strategies to help their child live as independent of a life as possible so they too get their independence back.