Meet Mary and her son Joseph.
Joseph came to me at 7 years old. Non verbal and needing to potty train. Because he did not have communication skills he was also acting out.
Mary was over changing dirty grown up pull ups and spending money on them, too.
She was also DESPERATE to have a conversation with her son.
Michelle: The last several months to get to know you and to learn about Joseph and just be a part of your world. And I want to thank you for that.
Mary: And thank you so much.
Michelle: I wanted to ask you a couple of questions about your experience with me. The first one I wanted to ask is, why did you decide to work with me?
Mary: Okay, so I got to a point where I was really overwhelmed. And I wanted, I knew there was more I could do for Joseph, and I knew there was more room for him to learn. So I started looking up online, and I'm like, I really need somebody who's been through or somebody who knows more than I do, who's walked you through this, that can be my coach or help me, you know, figure out figure things out. So I started looking online, got a couple of people, and then I came across your name. And for some reason, I said, let me give her a try. Because I read your story with, you know, your daughter, Juliana. And I was amazed.
Michelle: How are you feeling though? As a mom now like before, when you when we started, you felt super overwhelmed. Where are you now with that?
Mary: Okay, so where I am now, it's where I kind of know that I'm in charge. And not just in charge, but I also like count my it's not just where I need yourself to be. But I know that if I'm better, just has a better mom, and I make better decisions. When I called you at first I was really overwhelmed. But now hardly, I would say, I never get overwhelmed, but I'm able to retrace I'm able to go through and see what happened. What, why am I feeling exhausted? What is going on? Then I look at me like, Okay, this, you're taking on too much. You need to hold on. It all doesn't have to get done right now you need to take a break, you need to pause, just take it easy. So I'm able to recalibrate and then get back to a safe place.
Mary: That has really helped me a lot.
Michelle: What is the most? What did you enjoy most about working with me?
Mary: I cannot pinpoint one thing. I cannot just pick one thing from the start till now. I love everything, your motivations, I break things down, how you make it seem easy, and not just seem easy, but you give the tools and the steps of making it easy breaking it down. So I really cannot point one thing, Michelle, because you pretty much held my hand. And you still walk in with me. And the great thing is, you have a coach for a lifetime. You have a friend for a lifetime and it's for like that person for life. That person you can call any question, Michelle. Oh, I call them this happened and she's like, okay, okay. She listened to you give you the best advice. So I really truly I cannot pinpoint one thing.
Michelle: Okay, one last question. I'll let you go. Would you recommend me to any other mother who has a child on the spectrum?
Mary: any day, any day, any day, I will recommend you. I will recommend to you whoever has a child on the spectrum. I will recommend Michelle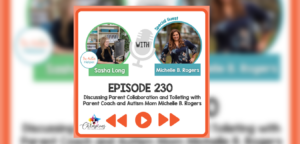 This week I'm excited to share with the recording for a podcast I was a guest speaker on.  I talk specially on parenting a child
Alex is 5 years old and has Autism. Hayden came to me with hopes to get Alex (finally) potty trained.  Find out what *clicked* to
Michelle B. Rogers is an Autism Mom & Life Coach for Parents of Children with Autism. She is an expert in helping parents Potty Train and Improve the Communication Skills of their children, with a "straight forward" results-driven approach. Her mission is helping every child with Autism to reach their greatest potential by empowering their parents. She provides Autism Parents with the mental, emotional and tactical tools and strategies to help their child live as independent of a life as possible so they too get their independence back.