The Joys and Struggles of Raising an Autistic Daughter and a Neurotypical Son
I remember six months into our autism journey a new therapist was coming to do a session with Julianna at our home.
To give them the space to pair I picked up my fast growing 6 month old Cody, and sat with him on the playroom floor trying to listen to how it was going.
All of sudden I realized for the first time I was alone with Cody and I wasn't with Cody.
I remember the guilt that consumed me in that moment as I watched his little chubby hands touching the plastic keys on his key chain.
Outside of providing him food, clothing, and a sweet chat during diaper changes…
I felt like I had been neglecting him to help her.
My eyes started to fill up with tears as I was thinking about how I was going to navigate the years ahead of taking care of her but also not ignoring him too.
When you're parenting children on both sides of the neurodiversity spectrum, your head can spin you into the mental mud of beating yourself up for not doing it perfectly
and/or….
You Smack yourself down at the times you are providing more attention to one than the other.
In that moment on the floor I reminded myself that there is NO PERFECTION and if I wanted to create a home where they both got attention, then…

Cody would HAVE TO be apart of her therapy sessions as well.
Because of that decision, Cody has shined through this whole process.
His language skyrocketed at 1.5-2yrs old that we would call him "the little mayor".
He'd blurt out 2 or 4 passionate sentences about his favorite Disney Princesses and then immediately put his pacifier back in his mouth in between.

He learned sign language for himself.
He has sat happily for tasting sessions.

He's endured countless turn taking games.

He had to learn how to tie his shoes a bit earlier than other kids his age.

He participates in organizational games, all with a smile on his face.
He's my tiny dancer, my sweet gymnast with a heart the size of Texas.
He naturally adopts the role of a supportive brother, demonstrating empathy, patience, and understanding beyond his years.

He also learns about diversity and acceptance firsthand, growing into a compassionate individual who appreciates the richness of human experiences.
I couldn't think of a better sibling for Julianna.
However, this journey also has its fair share of challenges.
Communication barriers can often create a sense of frustration and disconnection for Cody.
Julianna can be rigid, get physical, and be cruel to him.
There have been countless times he's come to me in tears telling me she doesn't love him and is awful to him.
It isn't all roses and cupcakes, but…
His ability to be flexible, to understand Julianna's strengths and weaknesses has actually created a lasting foundation for a strong sibling relationship that will last years past when I am gone from this world.
And even though sometimes she frustrates him to tears….
He always CHOOSES to keep at it with his "never give up spirit" with Julianna, and to keep trying to make their relationship stronger. 
We've seen how the bond between Julianna and Cody helps them both develop and grow in ways we could have never anticipated.
Cody gains maturity and sensitivity, while Julianna finds an ally and confidante in her brother.
This relationship has enriched our family, giving us countless moments of joy and teaching us invaluable lessons about love and acceptance.
In the end, the journey of parenting both neurotypical and neurodivergent children isn't about comparing their abilities or milestones.
It's about celebrating their individuality, cherishing their unique perspectives, and honoring the different paths they are carving in life.
Especially because in our family, autism isn't seen as a limitation, but a different way of experiencing the world.
In our home we CHOOSE to see this as a journey filled with profound lessons, sometimes PAINFUL GROWTH, and immense love.
It's a journey that teaches you more about life, humanity, and yourself than you could ever imagine.
And for all its challenges and blessings, it's a journey I wouldn't change for the world.

and I am sure Cody and Julianna would agree.
xoxo Michelle
P.S. Are you in the trenches of your mental mud, trying to navigate the complex world of autism with your child? I am a Master at Potty Training, Communication, and Stopping Problem Behaviors and I want to help you.
Book a call to learn more about my group coaching program for parents of children with Autism. On this Call I want to hear all about your baby and we'll see if it makes sense to work together and talk about next steps.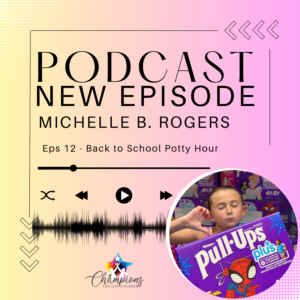 From This Episode: Stacey is what I like to call an OG to the Champions for Our Children Masterclass.   She's been with me since the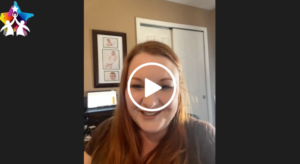 Anne joined my program in early March. Convinced her daughter Audrey would be in pull-ups forever. By April 4th, Audrey was FULLY POTTY TRAINED and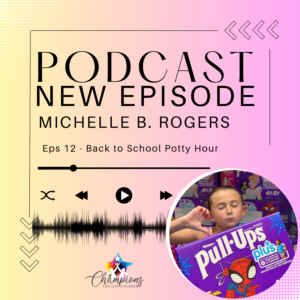 From This Episode: 🎒🎙️✨ Exciting News! Join us for a captivating new episode of "Back to School Potty Hour" on the Autism Moms Podcast! 🧩
Michelle B. Rogers is an Autism Mom & Life Coach for Parents of Children with Autism. She is an expert in helping parents Potty Train and Improve the Communication Skills of their children, with a "straight forward" results-driven approach. Her mission is helping every child with Autism to reach their greatest potential by empowering their parents. She provides Autism Parents with the mental, emotional and tactical tools and strategies to help their child live as independent of a life as possible so they too get their independence back.