The No Bullshit Approach to Helping Your Child Today
When parents speak to me for the first time, I think sometimes my directness can surprise them.
​
Hop on a call or I coach on a webinar there is no chit chat.
​
There is no "how's the weather?" or "What's your puppy's name?"
​
Straight to business.
​
​Business of helping your baby WIN.
​
Ask direct questions about why you need my help, what you've tried and why you think you haven't gotten the results you want for your child.
​
This could be…
Potty Training
Communicating
Stopping Problem Behaviors
or all of the above.
​
​LISTEN REALLY CLOSELY.
​
Then I tell you why what you've tried hasn't worked and how I can help you.
​Delivery of that solution is to the point and blunt My clients this morning jokingly referred to me as their their Bootcamp Sargent!
​
And I show up as such because I believe we don't have time to waste.
​
​Will always unapologetically speak to my parents HARD because I need you to MOVE for your baby.
​those thing that shakes you out of your disbelief.
​
So when you're feeling hopeless because you've ….
​
"tried a lot of things"
"made several attempts and it didn't work"
"your child are stuck".
​
Need you to HEAR ME when I say that THERE IS STILL HOPE!
​
​You HAVEN'T tried everything, because you haven't worked with me.
​
Start believing again that not only CAN your baby be potty trained, communicating and stopping their problem behaviors…
​
​It MUST happen.
​
Consider this work we need to do as parents as a matter of life and death for our children with Autism.
​
​Because getting your baby these skills gives them the life independence we all dreamed about before the diagnosis came.
​
In my mind there is no other way to see it.
​
​That means I might tell you something that hurts your feelings.
​
I'm not doing it for shock, I am not doing it to judge.
​
​HARD things to you because I love children, I am their biggest cheerleader…
​
Want you to MOVE for your baby.
​
​Not anyone is more important to your child's life than their Mother/Father/Grandparent/Caregiver. ​

​
No one else is coming to do the job for you.
​
​Has to be you.
​
Have to be your baby's greatest Champion.
​
Believe once you are aware of WHY your child is not potty trained, communicating, or melting down…
​
Can make the changes needed mentally and emotionally to implement the tactical process to get these skills for them.
​
​
​Also I have to give it to you in my No Bullshit Approach, Even if it hurts you to hear it.
​
But…
​
​Speak gently when I sense you've tempered your hope, then you temper the results your baby can have.
​
Throw softballs when I write to you because you are afraid of regression, see it as death vs. a normal part of the human experience, then your baby will never move forward because of your fear of slipping back.
​
Although it breaks my heart when parents freeze up, hang up, shut down when I speak to them like this…
​
Even if that means you never work with me, you unsubscribe from my list, you delete this email…
​
Knowing that I gave it all I got to bring you that awareness, and I hope you find what you need to help yourself and your child…
​
after talking with me…
​
A PARENT CAN NEVER SAY THAT NO ONE EVER TOLD IT TO THEM STRAIGHT.
​
ALWAYS want your baby (and YOU their Champion Parent, the most important person in their life) to WIN, even if it means you never work with me.
​
Leave you with this…
​
Had a mom that joined my Masterclass over a year ago and quit.
​
She had words for me when I said it to her straight and I never heard from her again.
​
Until…
​
Sent me this message.
​
"May not remember me as the lady on the group call at my first (and only) meeting with one of your groups who outright asked for her money back in the middle of the call.
Wanted to reach out and let you know how important that interaction was to me in hindsight.
​Came across you I was stuck.​
​
Brazen personality and no bullshit approach turned me off because I was already burnt out and I had already been doing everything I possibly could and you were telling me there was more to be done . You were right.
Was more to be done and there is still more left to do.
​
Interaction gave me the fuel I needed to keep going. To keep finding answers and to make things happen.
​
Recall, my son was starting kindergarten the following year and I wanted him to be verbal by then. He wasn't but by that point we were well on our way to getting there.
​
He's now in an excellent ABA program at our local public school, crushing it every day. It hasn't been smooth sailing but I continue to adapt and push and find solutions. When I get tired, when get frustrated, when it becomes too hard I think of you and your fuck you autism approach and keep going.
​
Just wanted you to know you helped a person who maybe you think you didn't and I'm at the point in my own journey with this where it's not just about helping my son. It's caring about all the kids out there who need people like us, people who take action, people who know this can be fixed to get out there and make it happen for all.
​
Respect for what you do and respect for your part in our journey."​
​
Happy that this mom saw the light, but…
​
Stayed with me, even when it hurt, could she and her child be in an even better place today?
If you're looking for a safe space, I am not your gal.
​
You're looking for a friend to just complain about the problems and not do anything to solve them… nope not me.
​
Get results for all the families I touch, even the ones who work with me for a day.
​
I'll keep dishing it out LOUD, CLEAR, and UNAPOLOGETICALLY so everyone can hear me..
Including the parents who are sitting quietly alone in the back right now so they can get MOVING to help their babies today.
​
xoxo Michelle​
P. S. Have you been one of my parents sitting in the back, quietly reading my emails, watching my workshops and just waiting for the perfect time? If you're still struggling with your thoughts about your child's Autism and how to teach them THE BIG 3 (Potty, Communication, and Stopping Problem Behaviors), this is the HEART of what I do and I want to help you!

​
​BOOK A CALL HERE so I can hear all about you and your baby and then we can see if it makes sense to work together.
​
P.P.S. Not sure you knew, but I launched a new Podcast! You can check it out HERE!​
​
To celebrate the launch of the Autism Mom's Potty Talk Podcast we are raffling away one (1) Full scholarship of my Masterclass program!!!.
​
​
Here's how to join, each step below is equivalent to 1 raffle entry. The more entries you make, the more chances of winning:
​
​
​
​
The winner will be announced on August 11!
​
It is my honor to use this new platform to give Autism Families even more support. I thank you in advance for helping me to do that.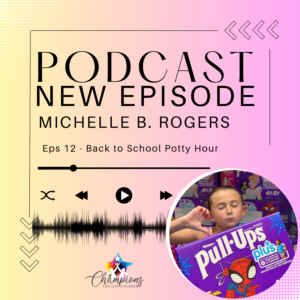 From This Episode: Stacey is what I like to call an OG to the Champions for Our Children Masterclass.   She's been with me since the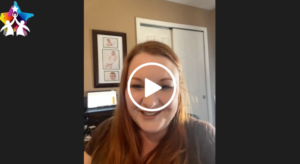 Anne joined my program in early March. Convinced her daughter Audrey would be in pull-ups forever. By April 4th, Audrey was FULLY POTTY TRAINED and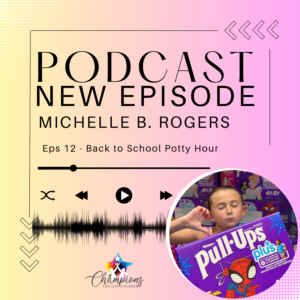 From This Episode: 🎒🎙️✨ Exciting News! Join us for a captivating new episode of "Back to School Potty Hour" on the Autism Moms Podcast! 🧩
Michelle B. Rogers is an Autism Mom & Life Coach for Parents of Children with Autism. She is an expert in helping parents Potty Train and Improve the Communication Skills of their children, with a "straight forward" results-driven approach. Her mission is helping every child with Autism to reach their greatest potential by empowering their parents. She provides Autism Parents with the mental, emotional and tactical tools and strategies to help their child live as independent of a life as possible so they too get their independence back.